Calendar for 2019 is in progress.
Past from:

Dear friends of didgeridoo,
You got the extraordinary opinion to meet one of
the greatest master of didgeridoo and to work with him!
At Sunday 3rd of April 2016
Dubravko Lapaine
(www.lapaine.com)
one of the greatest didgeridoo player gave a workshop in our garden and our
loft 3d in AT-8233 Lafnitz 120
Many thanks to all visitors for participation of workshop
and particulary to Dubravko Lapaine
for extremly information rich and motivational workshop,
which made the playing of the didgeridoo
in a completly new understanding appear to us,
at last from my view.

Dubravko Lapaine developes continously new styles of modern didgeridoo playing,
new definitions and fusion genres are necessary do describe his music.
The topics of the workshops are:
Pure basics - absolutely necessary exercises
to master to be a balanced and powerful player

Superflexibility: understanding basic
and not so basic movements thatcreate sound
How to get the ultimate precision in playing:
understanding envelopes
One of greatest composing tools: know the duration of your articulation.


From his charismatic character you can get a little more then only
didgeridoo playing technique.
The organizer of the event is our association KUBILE
DRUM*PARAM offers instruments for rent for the event,
you find locally a big assortiment of didgeridoos for testing.
The participants should be able to play at basic level,
to control circular breath and
should have basic experience in playing didgeridoo.
Bookings please at Norbert Schmid, DRUM*PARAM, or better:

remit Euro 80.- latest three days bevore the event to the account below
to secure your participation for the workshop.

Possibilities for travelling lifts can be coordinated by Norbert Schmid.
Dubravko (www.lapaine.com), Karin (www.rhythmuse.at)
und Norbert (www.drumparam.at)
Workshop fee for each participant is Euro 80.- included membership for the day at Kubile,
Sunday 3rd of April 2016, 14o´clock in AT-8233 Lafnitz 120/3d
Remits please latest 3 days before the event to the account KUBILE
or (please only in coordination with our office ! ) locally at the event.
Raiffeisenbank Lafnitz Rohrbach IBAN: AT29 3810 8000 0201 4363 BIC: RZSTAT2G108
Registration : art@kubile.org at Norbert Schmid 0660 9433282 . P.S.
Verein Kubile, A-8233 Lafnitz 120, Mobil: 06609433282 ,
art@kubile.org, ZVR: 204445992
Past, last year:
1.) Workshop: Southindia Rhytm Of The Carnatic Music
for didgeridoo player and interested parties.
With Karin Bindu (http://www.rhythmuse.at)
Zeitort: 31.10.2015, 11:00-13:00,
14:00-17:00,
N.I.C., 8233 Lafnitz 120
Costs: Euro 75.- included scripts
2.) Workshop: Open Level Transcultural Rhytm
On Jembes And Bass Drums.

With Karin Bindu (http://www.rhythmuse.at)
and Norbert Schmid (http://www.drumparam.at)

Place and time : 31.10.2015, 18:00-20:00,
N.I.C., 8233 Lafnitz 120
Costs: Euro 45.- included scripts

31.10.2015
Past:
Perkussion Ensemble Open Level + Open Content
mit Karin Bindu und Norbert Schmid

Sunday, 27th Sept.2015
von 15:00-19:00,
in 8233 Lafnitz 120 Fee: 60.-
You ask and we offer
our rhythmik experience and knowledge
about West Afrika, South India, Karibik und dem Orient.
The Workshop is also a invitation to build up a group who meets regulary for rhythmic activities as drumming and grooving with the goal to act small performences
in different locations.

Please registrate by email or call 0660 9433282.
This year you will find us again at the
CULTIVA exhibition in Vienna Vösendorf
with exhibition of our instruments,
speach in the congress,
also with workshops for percussion and didgeridoo.
We, association KUBILE, organise in autumn 2014 some top quality events,
offers you workshops with famous artists
in A-8233 Lafnitz 120, Loft 3d, and also at the
Cultiva Ehibition in the pyramide SCS Vienna:
Our High Light this autumn,
As part of the exhibition of our instruments at the CULTIVA hemp fair in the
Event Hotel Pyramide near the SCS Vienna South
we have invited the brillant and famous Didgeridoo Virtoso
Dubravko Lapaine for concert and workshop.
We are happy that Dubravko agreed to play a concert
on Saturday 18.9.2014 afternoon in the area of the Cultiva exhibition.
He will give a workshop on the following Sunday, 19.9.2014
starting 11 o´ clock near the Cultiva area,
but in rooms reachable from outside of the exhibition.
Please take this opportunity to meet Dubravko
and participate concert and workshop.
Please kontact us for participation.
Konto Verein KUBILE
Raiffeisenbank Lafnitz Rohrbach
IBAN: AT29 3810 8000 0201 4363
BIC: RZSTAT2G108
Association KUBILE, organizes several Workshops in the spring of 2014
in A-8233 Lafnitz 120, Loft 3d:
Dear friends, we as association KUBILE don´t shy any effort and costs
to bring bring famous artists for workshops to our area.
Please take your chance for education and participate at the workshops we offer,
you will not get chance everytime to get such high quality lessons.
Our experiance is, learning at different mastersworkshops
you will get a lot benefit for your own ability and performance styles.

The payments contains a one day membership of the Association KUBILE
in the amount of Euro 1.-
Past:
Markus Meurer

Markus Meurer ist ein professioneller Didgeridoospieler und -Lehrer
(siehe www.boingfestival.org) und ist im September bei uns zu Gast.
Er bietet einen Didgeridoo Workshop mit Schwerpunkt die eigene Rhythnmik entwickeln,
Techniken der Perforrmance sowie des kreativen Zusammenspielens.
Sa 13.9.2014 in Lafnitz, Details
hier im pdf
Mark Miethe

Mark Miethe (Didges Brew) aus Deutschland ist Körper und Psychotherapeut,
Didgeridoo Spieler und Lehrer. Einen Didgeridoo Workshop mit Ihm zu buchen stellt eine wesentliche Bereicherung des Repertoires und der mentalen Fähigkeiten dar.
Samstag 27.9.2014 in Lafnitz

Jembe workshop with
A very special guest, the virtuoso international artist GUEM,
famous percussionist and dancer
gives two workshops for jembe in our rooms in Lafnitz
He is a charismatic and popular teacher,
add this event, you should not miss.
Friday 30. 5. 2014 17h - 20h
Saturday 31. 5. 2014 10h - 13h
Fee: Euro 70.-

Rent a jembe for Euro 3.-
There is a pdf with more details in German language.

Contact, info also at the page of Monika Heller.
Payment for the workshops should be done in advance
to the account of the association KUBILE,
Raiffeisenbank Lafnitz Rohrbach
IBAN: AT29 3810 8000 0201 4363
BIC: RZSTAT2G108
is following the Saturday morning workshop
convey his special play and sound production tecniques on the didgeridoo.

He is a very compassionate teacher
who approaches with a lot of patience
and motivating friendly nature to the participants.
Workshop Didgeridoo Sturday 31.5.2014 15-18h,
Fee Euro 45.-
pdf in German language.
All workshops take place in Lafnitz at the old textile factory, Loft 3d .

Paticipants of both workshops can take a fine lunch for free.
gibt uns im .April 2014 die Ehre seine besondere Kunst des Didgeridoospiels zu erfahren. Anmeldung bei Mario Pall.
rhythman@gmx.at tel 0680 3169346
Workshop für Anfänger Samstag 26. April 2014 11h -14h
Workshop für Fortgeschrittene Samstag 26. April 2014 16h - 19h
Hier gibt es hier ein pdf mit den Anmeldedaten.
Didgeridooworkshop
On Saturday 2. November 2013 Mario Pall
RhythMen, Air Rapide, Özlem Bulut Band
gave again a workshop for beginners and advanced players for didgeridoo,
in 8233 Lafnitz 120 Hall 3d pdf
Beginners 11h-14h
Advanced 16-19h was cancelled
We thank all Visitors for participation and wellcome you to the next event
You found us with exhibition, speech and workshop
again at the Cultiva Exhibition in Vienna.
The new Book from Karin Bindu is avaiable now
"Percussion Art Forms: Aspects of the production und communication
of South India Talas in the Kutiyattam"
Titel: Percussion Art Forms. Aspekte der Produktion und Kommunikation südindischer Talas im Kutiyattam
Language German Bd. 8, 336 S., 29.90 EUR, br.,
ISBN 978-3-643-50501-9 http://www.lit-verlag.at/isbn/3-643-50501-9
DRUMMING Workshop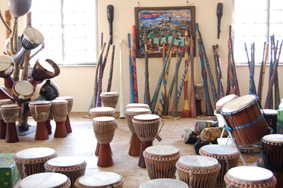 At 12th October 2013 we gave a percussion workshop
about African and Indian Rhythms,
Rhythmuse Karin Bindu and Norbert Schmid took you to the world of percussions.
Many thanks to all participants
at beginn Frank Templin gave a workshop, teaching his
individual style for Didgeridoo, it was a pleasure to watch his
professional engagement last time.
Many thanks to participantes, we will organise a second event.
Find more information here at the pdf
(German, ask for translatio at contact).
You found us there with exhibition of our instruments
Australien weekend in Eisenbach, Hochschwarzwald
from Fr 2.8.2013 to So 4.8. 2013, it was a nice and interesting event.
At the
Hosenhanselhütte von 15.18. August 2013

we recognised an intensiv interest on our
Hempstone Didgeridoos

Karin held a workshop about South Indian Rhythms from the Carnatic Music,
The participants had much interest on this exquisit offer.

From 23. to 24. August 2013
the
Free Tree Festival
took place in Upper Austria.

We held a drumming workshop there, for about 30 participatians on
Sa 24.8. at the coulture stage.
Many thanks to all participantes, you was great.
Drumming workshop in Lafnitz on Saturday 20th July 2013
please contact us for further information or look the German version.
Heart Culture Festival in Großsteinbach
was a very nice and peaceful event,
some organisers are invated to follow
this example of well organised event.
We enjoyed being able to attend a great peaceful community,
we thank the visitors, organizers and her helpers.

9th - 13th of July 2013, we were there from Th -Sa ,
click here to visite their homepage.
Artist meeting 29.6.2013
Many thanks to all visitors for participating the event!
The association KUBILE invites artists to a sociable afternoon
in Lafnitz 120 Austria A- 8233 Lafnitz on Saturday 29th of June .2013
beginning from 12 to 19 oclock the official part, open end.
Themes:

> Artists in 2013 - discussion and information exchange.

> The revival of the old textile Factory in Lafnitz with art projects,
Ideas for financing and support, planning next steps.
> General meeting Association Kubile
> Culinara and entertenment is organised,
please register at one of the email adresses.
Assdociation KUBILE management board:
Dr.phil Karin Bindu (finance)
Norbert Schmid (chairman) Simon Sonnfried Schmid ( secretary)

here to the pdf (German)
DIDGERIDOO WORKSHOP
held fromFrank Templin
On Saturday, the 25. of Mai 2013
Frank Templin gave a didgeridoo workshop for
advanced players from 15 o´ clock to 18.30.
The workshop was organised by KUBILE Association
in our factory hall 3d , Lafnitz 120, New Idea Center.
Many thanks to Frank and all participant!
We was impressed by the professionality of Franks workshop.
Frank teached with high attention, patientness
and a very rich repertoire and explained the styles
supported from spoken words and phrases.
If the participants accept we will load up a short video to youtube
you will find the link here soon.
Dear friends of didgeridoo music, Mario Pall gave us the honor to hold workshops for beginners and advanced players on didgeridoo in our studio.
Mario is a professional didgeridoo player, well known with the bands
RhythMen, Air Rapide, Özlem Bulut Band
and further high level projects.

He gaves two workshops, one for beginners and one for advanced players
on Saturday, April the 27rd, 2013
begin at 11 o´clock at our place in A-8233 Lafnitz 120, hall 3d,
organised by VEREIN KUBILE.
see the pdf.
Calendar autumn 2012
Tyrol:
"Die drei Herren" präsented their new CD!
link pdf
We ejoyed their spicy nice performance at the bakery Ruetz in Kematen.
Many thanks for invitation and exhibiting our new didgeridoo series.

Saturday 15th, Dezember 2012.
at 10 o´clock at the bakery:
Bäckerei Ruetz, a very nice and comfortable bakery in Kematen, Tyrol
The same day in Tyrol:

We presented our Hempstone Instruments
together with the artist Roderik Pischl at the

open day on Saturday 15th Dezember from 9.00 o´clock to 17 o´clock
at Caroline Schatzer and Christian Hausen in Telfs (Tyrol)
we played nice sessions and say
thank you to the nice and hospitaly gem-mineral company.

Vienna, NÖ:
Pre-christmas time and for world continuity:
Friday 21th Dezember2012 from 14 o`clock to open end:
We invited for a rhythmic and culinariy open day
at the old AUHOF (Auhofstrasse 58, 3423 St.AndrŠ / Wördern)

At this cozy get - together the
artist Elfi Weidinger exhibited and offered her christmas ceramics, many thanks.
We showed our newest Hempstone instruments
and best Africain jembes, thanks for participating this nice day.
Tanks for visiting and participating,
it was a pleasure to meet you all at this earthy creative workplace of Karin in St. Andrä.
It was a rarely grat Event!
The great Didgerodoo Sound Sensation in Vienna at the
Szene Wien
on Saturday 17.11.2012 20 o´clock

We was there with a small exhibition of our newest Hempstone Didgeridoos,
many thanks to the organizers and musicians.
Many thanks to all visitors for participating last workshop with Mario Pall, it was a pleasure,
we got a lot positive feedback. Many thanks.